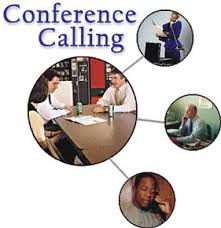 Classic pictures show President Franklyn Roosevelt with multiple telephones on his desk, each with its own line so that he could talk to several people at once. This was conference call technology in 1941.
Special equipment for conference calling was developed by Bell Laboratories around 1956. The first serious commercial dabbling in conference calling was a service developed by AT&T in the early 1960s. A Picturephone device, displayed at the New York World's Fair in 1964, needed three telephone lines to transmit audio and carry video information displayed on a tiny screen that was updated every two seconds.
In those days, if an executive wanted to make an announcement to offices across a network, multiple telephone lines were used to call all the offices and a loudspeaker could be connected to the telephones.
Digital Phones
Digital communications and the internet have made a wide range of conference calling services possible.
Simple three-way calling is available on home or office phones using a "hook flash button" on the phone that enables the dialing in of a third-party to an already connected call.
Computer-based technology has been replacing the old automated telephone switchboard system for office phones over the last decade or so. The PBX server (Private Branch Exchange) is a large computer-based switching device that connects individual phones to each other to create a multi-line service within an office phone network.
Internet Based Telephony
The key to the expansion of conference calling is the development of the "conference bridge." The conference bridge is a feature of internet-based telephone technology called IP-PBX (IP for Internet Protocol). The IP system or VoIP (Voice over Internet Protocol) uses a converter that translates the output of a digital telephone allowing it to connect to the internet through a computer. The PBX is then simulated or virtualized via software. If you choose, the simulation can occur on a server in the cloud, which can then serve as a conference bridge.
The Conference Bridge
A conference bridge provides a fixed cyber location at which the conference call takes place. Once the conference is fixed, the originator of the conference can call out to conferees to join the conference or conferees can dial into a common telephone number to join. The conference occurs on telephone handsets and office PCs which are used interchangeably. The number of conferees and the kinds of information, video, and audio, that can be presented depends on the bandwidth of the company's computer network.
VOIP Telephone Services
There are many commercial providers of web-based VoIP telephone services that provide PBX virtualization and telephone conferencing services. In addition to conferencing, features like automated reception services and video calling are generally included. Server-based telephone services are extremely flexible because they do not depend on the limited capabilities of analog equipment. The digital universe creates and simulates what it needs.
The capabilities of conference calling have greatly reduced the need for business travel and even allowed for telecommuting, enabling employees to operate from home offices. Conference calling can enable people to collaborate on projects at long distances, actually contributing to joint documents, spreadsheets or graphic presentations in real-time. Future developments on the horizon include telepresence potentials using robot stand-ins with capabilities to manipulate things manually at a distance.
Visit Clarus Communications here or call us at 855-801-6700 to speak with one of our knowledgeable staff so we can work with you on finding the right service for your business at the most affordable rates.  Our goal is to ensure high levels of customer service plus building and maintaining a system that enables your business to run well.
Clarus Communications is a national leader that specializes in providing over 60 telecommunication and technology provider solutions and we would appreciate the opportunity to become your technology partner and help you find the best solution for you and your company.