Every company wants to lower their telecom cost since phone bills sometimes make up a good chunk of a company's monthly expenses. But companies are sometimes adamant about not wanting to change things, only because they're stuck in their ways doing the same things for years. This includes using analog phones systems since they've been around for so long. Companies around for at least three or four decades probably know nothing else other than using analog phones. After so many decades, shifting gears with new technology might seem far too daunting.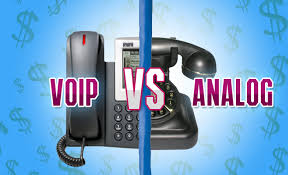 This is likely the only reason why not every company has digital phone services like VoIP. Fear can stifle a lot of advancements, and we want to make it easy for you here at Clarus Communications through the process of knowledge. And what you should know first is how much you'll save by switching to digital phone services. Your telecom costs will surprise you at just how much you'll save on your monthly expenses.
The reasons for the above are everything to do with phone companies charging more than you should pay for their services.
Why Analog Phone Systems Cost More
Your simple answer to the above is because you have to buy extra equipment to keep your analog phones up to date. How many times have you had to invest hundreds of dollars into upgrading phones in every department of your company? This is a frustrating situation when it's done far too often to keep your phones current with new features.
On top of it, the process of installing them with thousands of wires and cords is even more chaotic. It's the same when your company moves to another location as you grow. Plugging in is a big problem, including finding the space for it all if your offices aren't overly large.
With digital phone services like VoIP, it's all internal, and in the cloud. You don't have to worry about even having physical phones in your office. The only equipment would be headsets for listening to and talking to customers on the phone. All data is on your computer screen, accessible anywhere you have internet access.
This means every piece of customer data you need during a phone call is right there at your fingertips through a secure online database. It also means features like digital voice emails accessible anywhere in the world, plus many more features helping direct customers where they need to go.
Technology like VoIP has so many useful and efficient features available that many of them are unknown to people unfamiliar with this service. You have everything from virtual attendants for customers to consolidated connectivity so your employees connect easily anywhere they are in the world.
The connectivity side of digital phone technology helps your business grow since you don't have to wait in order to communicate with someone. In a time when ideas need conveying fast in order to stay competitive, this already gives you a leg up.
You can't get all of this when using analog phone systems. In the meantime, all those long-distance calls you make on your old phones are costing you a fortune each month. With services like VoIP, you pay just a flat rate every month rather than worrying about excessive fees or extra charges.
Overall, expect to save as much as 50% when you use a digital phone solution through us.
Visit us here at Clarus Communications or call us at 314-801-6700 and get your company started on better footing for the new year. We assure you that installation is easy, along with an even easier learning curve.