Web Conferencing Saves Businesses Time & Money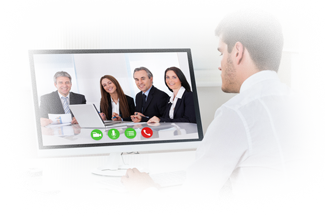 Although email and text messaging are now the most popular methods of communication, businesses still require face-to-face conversations and more personal ways to collaborate. This is where web conferencing can bridge the gap, providing you with a means of face-to-face communications with your customers and your team, no matter where they may be located.
The visual portion of the web conference is displayed in a window on the participants' computer screens and the audio is transmitted simultaneously by telephone or delivered over the Internet (VoIP). With web conferencing, you can communicate with clients around the world, collaborate with other employees and even host webinars, in minutes, with the click of a button.
Here we will discuss some of the benefits of web conferencing, including:
Enhanced Collaboration
With web conferencing, your employees can now collaborate, quickly and easily, without the need to be at the same location, saving your business time and money. Enhanced features, such as virtual training classrooms and online scheduling tools make online meetings and collaboration, across the enterprise, easier and more efficient than ever before. Work teams can develop engineering solutions, create presentations, review design specs, go over contracts, and even discuss customer service issues, all in real-time, as if they were meeting in person. Advanced features, such as file sharing and screen sharing, create a flexible all-in-one solution.
Desktop & Application Sharing
One of the most popular features of web conferencing is the ability to share your desktop or applications, online, with other users. This gives you the ability to present information such as Excel spreadsheets, PowerPoint presentations, and any of a number of other applications, that will allow you to communicate and collaborate more effectively with team members.
Other features include the ability to temporarily grant control of applications, or your entire desktop, to another user, allowing them to "drive" your computer. Conversely, another user can grant you control over their application or computer, so that you can run it remotely. This feature can be especially helpful and save time and money with technical computer support. Rather than trying to explain to an inexperienced end-user, how to make technical changes to their computer, they can grant them the ability to drive it themselves.
Reduced Training Costs
With web conferencing, your training instructors no longer have to be on-premise to provide training. Web conferencing gives you the ability to conduct online training and webinars, without the need to pay for travel and accommodation expenses for your instructor.
In addition, you no longer have the additional expenses of printed training materials, or a venue for a training seminar, as it can be conducted anywhere you have Internet access. This is ideal for a remote workforce, because every employee can stay exactly where they are and still have access to the online training. In addition, by recording your training sessions, and archiving them, they can be viewed later, for reinforcement, or to train new employees.
Simplified File Sharing
One of the most useful features of web conferencing is the ability to share and manipulate almost any type of program or documents. Any of the web conferencing participants can make revisions to these documents, if authorized. Since web conferencing allows users the ability to permit remote access to their computer, employee collaboration has never been so flexible. And because revisions and edits can now be made, in real time, there is no need for endless emails, back and forth, with various edited versions of a single document.
Flexible Work-Life Balance
Employees can be quickly burned out, if they are subjected to excessive travel. As a business owner, it's important to make sure that your employees, as well as yourself, do not get burned out by the stress involved with business travel, such as long flights, inclement weather or long drives. By utilizing web conferencing, you can eliminate, or at least reduce the need for frequent travel. With web conferencing, you conduct meetings, with employees and customers, much more effectively, from anywhere in the world.
Clarus Communications has worked with a large number of organizations, across the country, to help them implement web conferencing. We invite you to contact us today at 314-801-6700, to learn how web conferencing can benefit your business and save you money.