If there's one term that you must understand when negotiating software licensing, it's End User License Agreement, otherwise known as EULA. If you hold the rights to the software, you enter this contractual agreement as the license holder. If you're interested in using software maintained by someone else, you're the end user.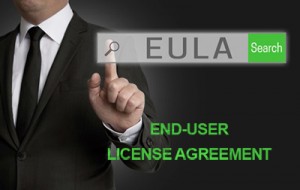 The agreement will set the rules so that the end user receives the access they need and the license holder is fairly compensated for creating the software. While many software developers offer standard EULAs for individual users of the product, it's common for businesses to negotiate customized agreements to accommodate their unique needs. These specialized agreements will take into account every member of the organization to ensure access is delivered across multiple locations if needed.
Terms You Need to Know
All technical contracts contain industry lingo that you must understand before agreeing to the terms. When it comes to a software license, you may come to the following terms:
Concurrent Use License: Multiple licenses are authorized for simultaneous use. This is beneficial to many businesses with multiple employees accessing the same software. A monitoring program is often used to ensure each end user doesn't exceed the maximum number of licenses authorized at any given time.
Site License: The end user is allowed to install the software on as many computers as they wish as long as all systems operate from a designated location. Campuses with multiple buildings are often considered single sites. While most of these licenses place no restrictions on the number of computers running the software, there are cases where a concurrent use model may be blended into the terms. This is why it's important to read the fine print carefully during licensing negotiations.
Workstation License: The end user has the right to install the software on a single computer. You may accept this license when installing software for personal use, but it isn't ideal for most businesses.
Perpetual/Non-Perpetual License: These terms determine when the end user must pay for access to the software. Perpetual licenses grant unlimited access forever after a one-time fee is paid. Non-perpetual licenses require renewal payments and often include subscription models.
In addition to understanding the type of license you're offering or purchasing, it's important to consider how maintenance fits into the agreement. Some agreements allow the end user to automatically receive updates as needed for a specified period of time, but this often comes with an increase in price.
Clarus Communications was established in 2001 as Convergence Communications with a directed focus on providing businesses with telecommunications expertise and systems. Like all successful companies, our knowledge, experience, and sincere desire to best serve the companies we work with led to an expansion of our offerings. We now offer phone services and systems,  IT filing, storage as a service, wireless communications, software licensing, and technology consulting and implementation, and, yes, business security systems. We have hundreds of clients nationwide who enjoy our focus on excellent service and benefit from our ability to solve their telecommunication needs of all descriptions.