Whether you work from home or the office, a fast and efficient Internet connection is essential for business. Slow Internet speeds due to weak connections are frustrating and cost companies money. Here are some ways to increase Internet speed for your web-connected devices.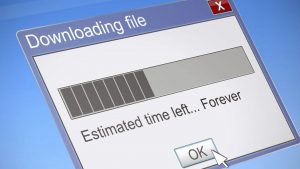 One of the first and easiest steps you can take toward increasing Internet speed is run a speed test. If you're tech savvy, there are all sorts of free tools online that can test your Internet speed. You just need to search your favorite search engine for "speed test" and run some tests through several different services that run on your computer. Be aware that in order to get the tests to run you may need to install some plugins.
Be sure to run these tests several times since different tests provide different results even if you run the same test twice. This happens because the number of people online at the office can affect your Internet speed and the fact that test servers are located in different areas. So taking a good sample of tests will help you to see what your average Internet speed is.
Once you have your average Internet speed you can compare this speed with the Internet speed you're paying for. Keep in mind that while many service providers claim speeds "up to" a certain number, that doesn't mean they can guarantee it will always be that high. However, if it turns out your average Internet speed is consistently lower than the speeds you are paying for, you have every right to contact your service provider's customer service and demand that they match what you pay for or a lower fee.
It may also be time to upgrade your Internet. Especially, if your company hasn't done this in a long time. You may find that a different service provider offers faster Internet for a lower price. This is why it pays to check all the service providers in your area. If you are considering a new service provider, don't get caught in the megabit/megabyte trap. Internet Service Providers (ISPs) advertise speeds in "megabits" rather than "megabytes." If you're trying to determine the actual transfer speed you're paying for, consider that there are 8 megabits (Mb) in a megabyte (MB). So, if your service plan provides you with 25 megabits per second (Mbps), you're actual transfer speed is just over 3 megabytes per second.
Another way to increase Internet speed at work is by turning your modem off and on. In some cases, a simple reset resolves a multitude of sins such as transient errors (the unexplained) while increasing your Internet speed. In addition to the modem, try turning your router on and off. Often this is helpful in increasing your Internet speed. But before you turn off your router, be sure you know your login information since computers often require you to enter it after the router has been reset.
In " Increasing Internet Speed at Work – Part II," we will examine more ways to increase your company's Internet speed if it utilizes a Wi-Fi network.
If your goal is to ensure high levels of customer service plus building and maintaining a system that enables your business to run well, please visit Clarus Communications here or call us at 855-801-6700 to speak with one of our knowledgeable staff.  Clarus Communications is a national leader that specializes in providing over 60 telecommunication and technology provider solutions and we would appreciate the opportunity to become your technology partner and help you find the best solution for you and your company.