Web conferencing is an important tool for investors, clients, and business partners regardless of their locations. Web conferencing saves businesses time, resources and money because they can meet with their clients or customers online rather than having to leave the office. Because web conferencing reduces the need to travel, it's environmentally friendly too. If conducted correctly, web conferencing is a method of communication that more and more businesses are finding to be just as effective as in-person meetings.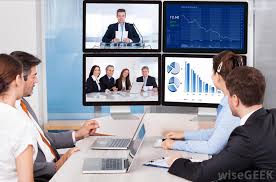 One of the most obvious benefits of web conferencing is its capability of combining visual and verbal communication. With web conferencing, businesses are able to combine a phone conversation with a live video feed. Web conferencing also provides businesses with the ability to conduct chats with IM (instant messaging) during the web conference. Chats allow a web conference participant to type, text or verbally communicate with other conference participants. Participants working for companies with instant access to the Internet can access any necessary files on their desktops and share them in real time with other participants attending the conference.
Another benefit of web conferencing is reduced travel. Whether domestic or international, travel costs have a significant financial impact on your business. Routinely paying for airfare, hotel accommodations, and parking fees quickly exhaust bank accounts. Plus, when a vital person at your company has to travel, your office is left short-handed until they return. But with web conferencing, your employees don't need to travel in many cases since personal or face-to-face meetings can be conducted via the Internet with attendees at locations around the world. Gone are the days of meetings and conferences getting canceled due to flight cancellations, airport delays or traffic jams.
Thanks to web conferencing, fighting traffic during inclement weather is a thing of the past since telecommuting from home is possible. Work from your home office, meeting with your boss, staff or clients over the web. With more people able to work at home, commute times are eliminated, office costs are reduced and productivity increases. And during flu season, employees with sick kids can still make the big meeting even if they have to stay home for the day.
Finally, one of the most taken for granted benefits of web conferencing is file sharing. Web conferencing provides attendees the ability to share and manipulate any type of document or program. Read through an Excel spreadsheet with your accounting department or share a Word document with your boss. In fact, you can authorize any participant to make revisions to your documents as well. Programs, presentations, and other materials can be viewed and shared with all web conference participants. Remote access to your desktop and other participants' desktops is also available, giving everyone the capability to easily manipulate files and documents. This saves participants time as it eliminates performing revisions via several email messages repeatedly going back and forth. With web conferencing, those edits can be made in real time as participants discuss revisions over a live video feed.
Clarus Communications is a comprehensive technology services firm that is committed to helping our clients improve upon and achieve their technology objectives. Trusted by businesses and partners nationwide, the team are experts in telecommunications, IP Phone Systems, and Cloud technologies.  Clarus has relationships with over 60 different providers and the technical staff to ensure the right technology is in place for your company.  This allows our clients and sales partners to have the best combination of price, value, connectivity and innovative services offered in the marketplace.  The company is headquartered in St. Louis, MO. Visit Clarus Communications here or call us at 855-801-6700 to speak with one of our knowledgeable staff so we can work with you on finding the right service for your business at the most affordable rates.