Before the invention of teleportation pods, telecommunication technology will have to suffice to meet our communication needs. In particular, web conferencing technology enables many busy people to interface in one virtual room while scattered across the globe. Web conferencing technology can also enable employees to work from home, or telecommute, which could maximize its benefits.
Web conferencing technology and telecommuting can facilitate improvement in these areas: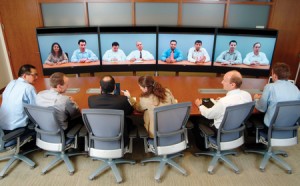 Productivity: enhanced meeting preparation/home-facilitated increases in productivity
Savings: finances, environment, space, time, energy
Family: increased quality family time/time to witness children growing up
HR: talent attraction/faster high-quality hiring/efficient training
Relationships: improved distance relationships/transparent distance communication
Productivity
The recording feature of video conferencing saves meetings for replay and review. It stands on reason to suppose people would more diligently prepare before the meeting due to this feature, which increases the value of the web meeting. Recorded unprepared presentation (that other members can re-play) could induce a healthy dose of fear to motivate the members to thoroughly prepare and stay alert for the web conference. Most people strongly desire to present themselves as competent professionals, especially in a recorded meeting.
Aside from recorded incompetence as productivity caffeine, telecommuting can also act as a productivity stimulant. An interview in the Harvard Business Review with a Stanford professor of Economics, Nicholas Bloom, described a survey conducted in a call-center of a Chinese web company. Bloom found that at-home staff completed 13.5% more calls than the in-office staff. He attributes this increase in productivity to no office distractions, such as the "cake in the break room" effect. Instead of spending time in the break room, at-home staff spent more hours calling clients (maybe in their home office a few feet from the bedroom). These employees likely planned their workday at home in advance to avoid wasting time running lunchtime errands.
As a disclaimer, productivity from telecommuting depends on the kind of work and the kind of employees. Professor Bloom emphasized the findings of this survey as applicable to call-center work. The at-home staff were volunteers: maybe they possessed above average self-motivation, discipline, and refined time management skills. In addition, as Bloom mentioned, older employees with established social lives closer to home may fit telecommuting better than younger employees developing a social network closer to the office.
Savings
Savings occur in these areas: finances, environment, space, time, and energy. Financial savings occur mainly from no travel: no hotel fees, no fuel costs, no airplane tickets, no rented automobiles, and no restaurant bills from no transport. Environmental savings also occur from no travel: no carbon emissions from the vehicles not used to arrive at a conference center. Space savings occur from utilizing partial or complete telecommuting that requires less office space. This also reduces real estate cost due to decreased rent, utilities, and furniture. Saved time derives from none of the members having to drive or fly for hours to the conference center, time now freed for productivity. Last, but not least, savings in energy: one feature of web conferencing technology, the automated email reminders, makes it easier to coordinate all associates to one place and time. No travel provides, even more, energy savings: no distress and fatigue induced by distracted or angry drivers, or obnoxiously talkative co-passengers during the flight.
Family
Telecommuting parents can web conference with associates in the home office. Right after the conference, or right after getting the necessary work done, the parent can return to family life in an instant, now able to spend quality time crucial for happiness. This parent can now, more likely, see the first footsteps, the first dropped tooth, virtually the first of everything during their children's development.
Their vital adult relationships at or near home can flourish more easily due to greater availability of flexible hours. Overall, users of web conferencing technology working from home can maintain high well-being. This high well-being allows robust energy for focus, for work engagement. If parents have to know important details from the conference sessions, but can't immediately attend the meeting because of family emergencies, they can later return to the recorded sessions saved online in their home office desktop or tablet.
HR
A talent may reside in San Francisco with the company's headquarters in New York; this distance may necessitate an online video interview. According to the Cisco blog, video conferencing provides at least six benefits for human resources, two of which are: attraction of talent and a faster-hiring process. Video conferencing attracts this talented Californian employee because this young talent may love the idea of working for a sophisticated high-tech company. Video conferencing quickens the hiring process due to no travel for the interview. The higher quality hiring comes from reviewing the prospective employee's nonverbal behavior in the replay of the recorded interview. If hired, streamed training videos enable this talent to replay and review the training sessions, tuned-in, tuned-up, and turned-on for the necessary business operations.
Relationships
Using video conferencing makes communication more transparent. People can see the nonverbal cues to communicate more effectively. For example, the video shows the confusion about a report so the presenter can detect the need for elaboration or clarification. Visual feedback makes nuances of confusion and other states more apparent. Seeing is believing: many people are predominantly visual thinkers. They need to see the personalities behind the voices and emails to build more understanding and trust to facilitate working relationships. As the old saying goes: a picture equals 1000 words. So moving pictures are worth millions of words.
Overall, we live in a global digital age with a crucial need for telecommunication technologies that enable rich social connections despite distant borders. The benefits of this technology depend on drive and willingness to learn. Those who never used this technology before, those who need to raise the tech sophistication of their company to strengthen connections of a global network, can learn more here.
Clarus Communications will conduct an assessment to understand your business needs.  This review will determine your current situation and inventory your current equipment. Once you pass our initial review, the team at Clarus Communications will provide you with a free estimate so you can compare providers.  We shop the carriers saving you time and money.  We have helped hundreds of companies nationwide save thousands of dollars by finding the right solution that best suits their needs. Click here or contact us at 855-801-6700 for more information.