Work meetings can be such a drag. You are forced to sit in a conference room listening to the VP of something talk on and on about statistics that mean absolutely nothing to you. You could be back at your desk, getting some actual work done, not wasting time – and company resources – listening to finance talk.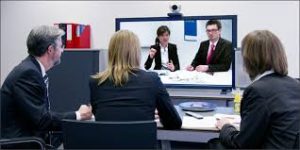 Or maybe you got sent across the country for the meeting. You are stuck in a cramped hotel room with only a stale doughnut for breakfast, and you still have to listen to Mr. VP talk his talk about corporate strategy. And there is all the cost of travel, flight, car, hotel, food.
Neither scenario sounds all that appealing. But there are alternatives to the "sit still in the conference room" conference. Business Web Conferencing by Clarus Communications is a method by which you connect to the conference from another location, and participate as though you were actually there.
Imagine sitting at your desk doing your work, with the conference running in the background. Not only are you keeping up with your workload, but you are listening in on whatever is being discussed. Your productivity is up for that hour or two because you are doing two things at once.
Or instead of traveling halfway across the country for a meeting, you simply call in from the comfort of your cubicle back at the home office. Again, you are able to keep up with your workload, and there is no travel required.
Both scenarios save the company money through business web conferencing by allowing an employee to stay at their desk and continue to work, instead of sitting in a conference room down the hall or across the country. Business Web conferencing is a great way to keep up with meetings, without actually having to go to the meeting. And Clarus Communications can get you started by assessing your needs and helping you build the right set of tools for your business.
Visit Clarus Communications here or call us at 855-801-6700 to speak with one of our knowledgeable staff so we can work with you on finding the right service for your business at the most affordable rates.  Our goal is to ensure high levels of customer service plus building and maintaining a system that enables your business to run well.
Clarus Communications is a national leader that specializes in providing over 60 telecommunication and technology provider solutions and we would appreciate the opportunity to become your technology partner and help you find the best solution for you and your company.