To be more respectful of your time and your business, we will be sending this quick rundown of
important information once a month with your commission statement. We hope you find the
information beneficial to your success.
January 10, 2023

11:30 AM Central

ALL-IN-ONE COMMUNICATION + COLLABORATION +
CUSTOMER MANAGEMENT

UCaaS combines the best of an office phone system and other real-time messaging apps and delivers them in an intuitive way. In this training, get to know the top features, how UCaaS works, and why it's better than standard phone service.

January 17, 2023

11:30 AM Central

WHO WANTS TO BE A MITEL MILLIONAIRE?

RingCentral has added multiple enhancements to its UCaaS offering which simplify communications, collaboration, and insights to inform business decisions, and enhance the customer experience. Learn how RingCentral will continue to innovate to address the changing needs of the market.

January 24, 2023

11:30 AM Central

BUSINESS SOLUTIONS, NOT JUST WEBINARS!

Zoom is more than video conferencing. Think crystal-clear call quality. Secure, encrypted cloud communications. Instant messaging and instant collaboration. Learn how to simplify your tech stack and bring voice, video, conference rooms, and chat together with one secure solution: UCaaS.
Visit Our Agent Portal
CableFinder? Discovery questions? Help with a large account? All this information and more
can be found in our agent portal, built specifically for you. CLICK HERE to visit the agent portal.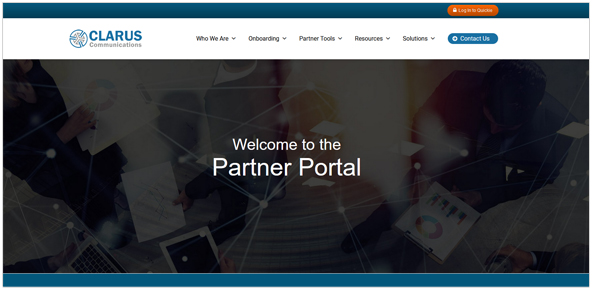 Maximize your sales! Provider promotions help your customers get the best service and save money, and they can help you generate more revenue! The SPIFFS page on our agent portal is updated frequently, so check back often.

HELP ON LARGE ACCOUNTS

Prospects may ask, "so, what other companies like us have you worked with?" or "how many clients do you have with international sites?" If you can't cite the experience of working with enterprise customers, they may struggle to see you as credible. We can help.
©2020 Clarus Communications