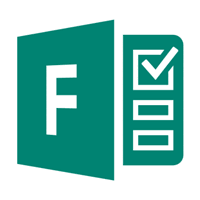 Microsoft Forms is an easy to use app that creates surveys, quizzes, and polls. It is available to most Office 365 commercial customers and is used by more than 3 million users in education. It can also be utilized by businesses and government offices for any of their data collection needs. Quizzes, surveys, etc. are extremely useful to businesses when it comes to collecting data on customers, and Microsoft Forms allows for an easy and customizable way of gathering that information.
Accessibility
Soliciting client input, measuring customer satisfaction, and organizing team events quickly are all easily done through the use of Microsoft Forms. It functions on any web browser, including mobile devices, making it accessible anywhere. Companies have the capability to customize their surveys through the addition of logos, images, and themes. The forms themselves can also be accessed by more than one user, so teams can collaborate on a single form. The forms are also accessible through applications such as SharePoint, Teams, Excel, Flow, and Sway.
Features
Microsoft Forms contains features such as the ability for IT Admins to manage user licenses, SOC compliance, and controls to enable the sharing of forms outside of a company or organization. Likert scales, support question branching, and the ability to collect 50,000 survey responses per form are features provided for complex surveys. It can also be used with PowerPoint, which allows for users to insert forms into presentation slides. Though commonly used for education purposes, Microsoft Forms is an excellent choice for any business or organization that needs a system of collecting data.
Data Collection
Thanks to the cohesion between Microsoft Forms and Microsoft 365 programs, inputting data into other solutions and databases within Microsoft 365 programs is quite simple. This collaboration allows for sorting mass amounts of data, creating tasks in Office 365 Planner, collecting and analyzing information from different users through SharePoint, and inputting information into Dynamics CRM, SQL, or Oracle. Collecting and organizing data is easily done through the use of Microsoft Forms in conjunction with Microsoft 365 programs.
Benefits
Multiple institutions, businesses, and government offices are able to use Microsoft Forms in order to collect data and generate reports based off of the information gathered. It is easily integrated with other Office 365 programs and is extremely safe due to it following Office 365 compliance rules. The form itself can be shared with anonymous users, and the results can be published and presented as well. Microsoft Forms allows for businesses to learn more about their customers and optimize their productivity in response to their clientele.
Clarus Communications has been serving the St. Louis area since 2001 and can assist your business in getting started with Microsoft Office 365 or any of the suite of Microsoft products and services. We'll work with you to assess your needs and recommend a solution that is custom tailored for your business. If you would like more information about Microsoft Office 365, give us a call.