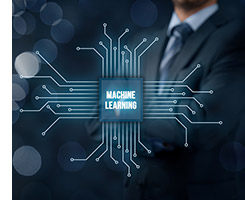 Machine Learning in business can help improve operations and provide meaningful insights on how customers and prospects are interacting with your company. AI (Artificial Intelligence) tools and numerous machine learning algorithms have become increasingly popular in the business community. Multiple factors, such as easy availability of complex data, less expensive and more efficient computer processing, and increasingly affordable data storage have led to a significant increase in businesses utilizing machine learning to improve their operations and improve customer service.
If properly executed, machine learning can provide a comprehensive solution to a variety of business problems, and reliably predict consumer behavior. Many of the major players in tech, such as Microsoft, Google & Amazon, have already deployed cloud learning platforms to assist their customers in implementing machine learning in their own IT environment. Here are some of the ways that Machine Learning can enhance your organization:
Gain Insightful Information About Your Customers – Companies can quickly access huge amounts of data, which can be utilized to determine potential opportunities with a client. By mining this data, businesses can reliable predict purchasing patterns, and customer behavior, based on their browsing and previous purchase history.
Online Shopping Product Recommendations – Machine Learning assists business in developing product-based recommendation systems. Most of the larger, more popular e-commerce websites are already making use of this technology to provide better recommendations to their customers. In these instances, the machine learning utilizes the customer's purchase history and then matches it with similar items that might be useful to their customer. These products are first identified and then suggested to online shoppers, potentially motivating an additional purchase.
Predictive Maintenance in Manufacturing – Manufacturing firms typically adhere to corrective and preventive maintenance procedures, which can, at times, be expensive and inefficient. By utilizing machine learning, manufacturers can gather meaningful insights and patterns hidden in their factory's raw data, to improve their maintenance procedures and increase productivity.
Reduction in Inaccurate and Duplicated Data – Predictive modeling algorithms and ML can significantly reduce errors caused by manual data entry in business. AI programs improve these processes by using the discovered data, increasing accuracy. Employees can then spend their time performing other duties that provide value to the business, rather than keying in orders.
Spam Detection – This is probably one of the most popular uses of AI today. Internet service providers have, for years, made use of rule-based filters to reduce spam, but newer technologies utilize advance neural networks that detect spam and phishing messages and eliminate threats before they arrive in the users inbox.
Financial Analysis Improves with Machine Learning – AI and machine learning can be effectively used to improve customer service, increase security and gauge customer sentiment. It is also being used in the financial sector for algorithmic trading, fraud detection, portfolio management and loan underwriting.
Improving Patient Care – Machine Learning is now being used in healthcare to arrive at a near perfect diagnosis, predicting re-admissions, recommending medications, and identifying high-risk patients. These predictions and insights are extrapolated using patient records and data sets, in conjunction with the symptoms exhibited by the patient.
If you'd like more information on how machine learning can improve your business operations, fill out the form on this page and someone from our company will be in touch with you.