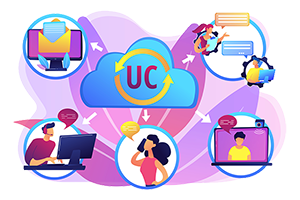 More and more businesses are seeing the increased productivity and cost savings of the new work-from-home and hybrid work business model. Most of these savings and benefits are made possible by cloud-based Unified Communications.
As businesses closed their offices, globally, cloud UC went from a fast-growing sector of the economy to one that is indispensable for business, providing increased productivity and improving the customer experience. With more companies deploying a remote workforce, it's important for businesses to utilize cloud based unified communications.
What is Cloud-Based Unified Communications?
Cloud UC provides all of the same applications as traditional UC except that it's delivered as a cloud-based service, as opposed to needing on-premise telephone equipment.
Cloud UC services are hosted by third-party service providers. These providers provide value and ensure a high-quality user experience with video, VoIP, and real-time communication services. Many providers also package cloud UC applications with SD-WAN and network services so that remote users get more consistent and predictable performance across the globe.
A recent survey found that the top challenges with UC today are network performance management and global service consistency. A global network service provider's overall management of their application, including 100% in-sequence packet delivery, delivers the total package for ensuring high-performing UC application performance worldwide.
What are the Benefits of Cloud-Based UC?
The majority of the benefits of cloud-based UC are related to remote work enablement, hence, the huge surge of cloud UC amid COVID, providing flexibility, and cost savings to businesses.
Remote Work
Cloud UC allows anyone to work efficiently anytime, from anywhere. Employees are no longer tethered to a physical desk in an office, and that's opened the floodgates for remote and hybrid work for businesses around the world. Gartner and others suggests that between 22-51% of the U.S. workforce will continue working from home in some capacity through 2025 as the covid pandemic runs its course. Even then, remote work will likely remain an important part of how organizations do business.
The Flexibility of Cloud UC
Cloud UC allows people to work with more flexibility with cloud-based communication and collaboration capabilities. Employees can quickly launch video meetings anytime, anywhere from within one simple app. They can make and receive calls regardless of where they are, what device they're using, or what form of communication works best for them. In short, cloud UC gives users the freedom they have needed for being productive in a way that works best for them.
Cost Savings
Companies can save with cloud-based UC in a few ways. On the capital expenditure side, research shows businesses can save about $11,000 annually for each employee that works remotely – and those numbers are based on part time employment. On the operating expenditures side, cloud UC allows companies to reassign IT staff to other business goals and objectives. On-premise equipment maintenance costs are also rising. Companies with less than 1,000 users and one single provider save nearly $700 per user license when they switch to cloud UC. Unlike premise-based solutions, upgrades and refreshes are already included in the cost of your cloud UC system.
With cloud-based UC, services are software-driven, meaning features are infinitely customizable to meet the growing and changing needs of your business. In other words, you can use Application Programming Interfaces, or APIs, to extend your UC functionality into different business apps and workflows. You can also add automatic speech recognition and virtual agent services so that customers can navigate menus and services by simply speaking to a sophisticated AI-powered engine. The options to customize are seemingly endless.
If you'd like more information about Cloud-based Unified Communications, fill out the form on this page and one of our representatives will get back with you.