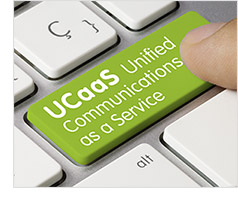 Most people have a hard time keeping up with voice technologies and its constantly changing terms and jargon; sometimes it can seem like speaking another language. Many different technologies can be incorporated into Unified Communications – and all can support business and make communication easier.
What is Unified Communications?
Unified communications (or UC for short) is a plethora of collaboration and communication technologies all aggregated into one platform. It creates value for business by bundling a lot of technologies into one, easy to manage package. The following list contains just some of the technologies under the UC umbrella:
Technology Components
Voice and video
Conference calls (both audio and video)
Remote device control and screen sharing
Call setup and call control
Technologies to enable the ability to integrate with older phone systems
Presence: the ability to communication your location, current activities, and availability
Unified messaging
What Makes the Communications Unified?
These days it can be hard to keep pace with the tidal waves of information our brains digest on a daily basis. Between tablets, laptops, smartphones, multiple voice mailboxes, email, and instant messaging, it is easy to miss an important message or fail to communicate with people quickly. The real value of unified communications lies in this abundance of information; unified communications integrates all of the pieces of the puzzle into one system.
Unified Messaging
One example of unified messaging is a voicemail to email solution. Without this feature, users would only be able to receive voicemails by accessing the voice mailbox at their office. Yes, there are ways to access this remotely, but they can be tedious and time-consuming. After implementing a unified messaging solution, the voice system sends the user an email message containing an audio attachment. The user simply opens the email and clicks the attachment to receive the voicemail.
Because the user's email is synced to their smartphone, tablet, and laptop, the user only needs to check their email to receive the voice message. There is no need to check voicemail and email and no worries of missing a message. Also, users can check it just about anywhere. In this example, two systems (voicemail and email) have been unified. It is even possible to configure the voice system to send SMS messages to specified users if they miss a call or to alert them that they have a voicemail.
There are also additional features that enhance unified messaging systems. For example, a voicemail could be sent to an email distribution list so that multiple parties receive the same message. This is useful in on-call or time-sensitive applications where a coordinated team needs to respond to a message or emergency quickly.
The features and technologies listed above are only the tip of the iceberg. There are countless other technologies that can be packaged in a unified communications solution. Simply put, UC is an eclectic package of integrated communications tools.
For more information on Unified Communications or if your goal is to make communication easier, fill out the form on this page or call us at 855-801-6700 to speak with one of our knowledgeable staff.