What is Microsoft Teams?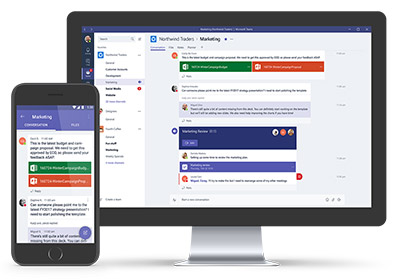 Microsoft Teams is a chat-based software application that allows employees to communicate, online, from any location. It's also fully integrated with other Office 365 software, such as Skype, SharePoint, Exchange, and Yammer.  Microsoft Teams is an effective communications solution offering many useful features such as one-on-one chat, team chat and more.
Features & Benefits of Microsoft Teams Software
Chat:  It's easier than ever to reach out to team members using the chat feature of Microsoft Teams. The software also has Skype integration, allowing for video chat and includes many social media features such as emojis, adding depth and personality to your team collaboration.
Hub: Microsoft Teams includes a shared repository of Office 365 applications, including Planner, OneNote, Excel, and Word.
Easy to Customize: One of the many benefits of Microsoft Teams is the extraordinary flexibility in customizing the software for your business.
Communicate in Real Time – Microsoft Teams allows you to communicate via chat, in real time, instead of sending emails and then having to wait for your team member to reply.
Mobile Audio & Video  – Teams provides an easy-to-use application that allows the user to chat with the team using text, or have a voice conversation, or even a video meeting, from wherever they may be. Available on both Android and iOS (audio only).
Increased Security – Microsoft Teams provides your company with enhanced, high-end security. All Chats are always encrypted, ensuring that your private information stays private.
Implementing Microsoft Teams in Your Business
When you configure a Team, the platform automatically generates a new SharePoint team site and an Office 365 Group, both of which are linked to your new Team.
The SharePoint Site includes:
Document Library
Wiki Page Library
Notebook (OneNote)
The Office 365 Groups includes:
Distribution list for Team
SharePoint
Shared calendar
Shared inbox
OneNote
Planner
Microsoft Team features integrate seamlessly with Office 365 applications and include:
Meetings button
Files button
Conversations tab
Files tab
Wiki
Add Planner
Add OneNote
SharePoint Site
Microsoft Teams is one more communications solution from Microsoft to increase efficiency and productivity across your business, in real time.
Clarus Communications provides Office 365, including Microsoft Teams software to users throughout the St. Louis, Missouri area. If you would like more information on how Microsoft Teams can enhance your business, call us today or fill out the form on this page for more information and someone will get back with you shortly.