I thought I had seen it all, but modern technology has even found a way to visualize phones. Soft-phones (or software phones) are a handy solution that should be kept in your technology toolbelt. If you are not already taking advantage of this technology, you are missing out on some incredibly useful benefits to your business.
Mobility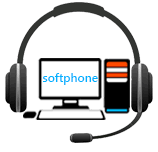 The first, and in my opinion, most obvious benefit of softphones is that they enable mobility for your users. A softphone is essentially a program that runs on your computing device (laptop, tablet, etc.) that both looks and acts like a physical, tangible phone. All communications are digital, and the program uses your ethernet or wireless network card to transmit the voice data using VoIP.  However, you don't actually need to be in your office to place calls. Once registered to your business's voice system, a soft-phone can even use the same phone number and caller-id information as the phone sitting in your office provided you have an internet connection.
This is fantastic if you are a mobile user because the person on the other end of the phone call is none the wiser that you are not sitting at your office desk. If you are working remotely outside the office without a soft-phone, what options would you have to make business calls? Likely the only solution available would be your cell phone, which would be disadvantageous to use for three reasons:
Does not mask your location or personal information (if using a cell phone, people can use a reverse phone lookup on your number)
You may not like business contacts calling you on your personal cell phone
Can eat into your employee's personal phone plan
Secure Connectivity
Many times mobile users already utilize a VPN tunnel to connect to their corporate network. While there are other options to use to register a remote softphone to the voice system, a VPN tunnel is an attractive option because it adds security. In a scenario where a softphone user is making a call to a user inside the corporation from a remote location, the voice traffic is immune to security threats such as wire-tapping because the voice traffic is encrypted over the VPN tunnel. As the voice data is transmitted across the public internet, it is protected inside the encrypted VPN tunnel. This is referred to as VoIPsec or Voice over Internet Protocol Security.
Video Calling
Many softphones today even have a video call feature. It is true that there are IP desk phones that have the same feature, but it is typically much more cost effective to purchase a soft-phone if you want this feature. You just need to remember that whoever you are video calling also needs to have a video capable endpoint to have a two-way video call.
Cost Savings
I have seen companies that did not want to purchase phone hardware for their remote branch sites because of their small size and call frequency. Instead, they took advantage of significant cost savings by implementing soft-phones. The users register their phones to the phone system located at company headquarters or a hosted system in a data center. No other hardware is required for the branch office except the devices to facilitate an internet connection.
Softphones are pretty standard technology these days and if you do not use them, your mobile users are missing out on some important benefits. Even if you already have a physical phone, a softphone can still add value whether you are in the office or at a remote site. If you find yourself curious about additional features, look into softphone products by Avaya. They are an industry leader and are well known for creating quality products.
If your goal is to save money and add value to your business, please visit Clarus Communications here or call us at 855-801-6700 to speak with one of our knowledgeable staff.  We would be happy to help you see if Softphones are the correct solution for you.