Businesses need the best information on storage solutions to keep large amounts of data for daily use. The data have to be constantly accessible and the databases have to be flexibly changeable. Planning for emergencies, important databases have to be regularly backed-up, duplicated and stored in a safe place in case the computer system has to be restored. There are several workable solutions available to meet these needs.
Rotating Hard Disks: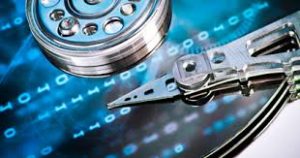 The hard disk drive with the high-speed spinning magnetic disk array is now 60 years old, having been introduced with the IBM 305 RAMAC computer in 1956. These hard disk systems have filled the need for random access memory information storage solutions and replaced the clumsy magnetic tape drives for bulk data storage. The first hard disk drives small enough to be used for desktop computers, the Seagate 5.25 inch ST-506, did not appear until 1980. The capacity of these rotating hard disk arrays has grown over the years with maximum capacity now about 8 terabytes. Large businesses use networks of servers, each equipped with large capacity hard disks to store massively accessible files.
Hard disk drives are heavy energy users. The magnetic disk platters rotate at very high speeds producing significant heat and friction. Bearings eventually wear out causing errors and the hard disk system is not expected to last longer than four or five years. Some drives that suffer from manufacturing defects break down a lot sooner.
Solid State Drives:
Miniaturization of computers and computer-like devices like smartphones and digital cameras came with the development of solid-state memory. Instead of using spinning magnetic disks, this form of memory stores data by activating millions of atom-scales electrochemical on-off switches, one for each data bit, arranged on cards or chips. Systems of chips are then stacked to build solid state drive (SSD) systems of four terabytes or more. SSD drives are currently three or four times more expensive than hard disk drives and have not yet met the highest capacity of hard disk drives. However, they are faster than hard disks and are not subject to physical wear-out.
Hybrid Drives:
Hybrid drives mix SSD technology with hard disks. The faster solid state drives are used to cache the most frequently accessed data from the hard disk to speed access to the data. These drives will have SSD speeds for the most frequently accessed data. The cost of hybrid drives is comparable to the cost of hard disk drives.
DIY Hybrids:
Some people create their own hybrid information storage solutions by linking their hard disk drives with an SSD using a specialized caching software. Functionally, this setup performs like a typical hybrid drive. Those that create their own hybrid drives can create much larger caches than the small amount of SSD memory on typical one-piece hybrid drives allow.
When you create your own hybrid, you can expect much faster operation on more of your data than you would get from a commercially available one-piece hybrid drive. This would also allow you to get a bigger bump from the hard drives you already own. Of course, making your own hybrid involves manual hookup. Commercially available hybrid drives are pretty much plug and play.
Clarus Communications is a leading, national provider of telecommunications technology.  Clarus specializes in providing over 60 telecom provider options to businesses that need dependable, scalable and innovative technology solutions. Since 2001, Clarus Communications has been successfully helping clients make the best decisions regarding their phone service, phone systems, wireless and data needs. Please click here or call us at 855-801-6700 to speak with one of our knowledgeable staff so we can work with you on finding the right service for your business at the most affordable rates.